News: Free Muggins! Get free Kiwee Muggins for MSN and Live Messenger
Posted on Saturday, October 14 @ 04:44:16 UTC (44728 reads)
(Read More... | 1500 bytes more | Score: 3.85)
News: Free MSN Icons to celebrate Messenger's birthday!
The world's most popular IM client, MSN Messenger (and Windows Live Messenger), will turn 7 years old this coming Saturday! To help celebrate this huge milestone, two of Messenger's content partners are providing Messenger users with free content packs (Dynamic Display Pictures, Free MSN Icons, Emoticons and MSN Backgrounds!).



To install the content into MSN Messenger or Windows Live Messenger, just visit the websites of the content providers and follow their instructions. You'll have your Messenger birthday Avatars and MSN Icons installed within a few minutes. Here are the links:
We'll be adding more free Messenger content very shortly.
Posted on Thursday, July 20 @ 13:35:10 UTC (19643 reads)
(Read More... | 1704 bytes more | Score: 4.41)
News: CE/DP Stealer 3.0 for MSN Messenger 6 and 7
CE/DP Stealer, the original MSN Messenger content stealer is back! With the CE/DP Stealer, you can steal Emoticons, Display Pictures and more from your contacts on MSN Messenger 6/7.
CE/DP Stealer 3.0 introduces complete MSN Messenger 7 support, support for previewing all image types and plenty of improvements throughout the software! For more details and information visit the CE/DP Stealer 3 section.
Download CE/DP Stealer and start robbing your MSN Messenger contacts!


Posted on Wednesday, February 16 @ 08:41:31 UTC (16787 reads)
(Read More... | Score: 3.36)
News: Backup your MSN Display Pictures & Emoticons
The Custom Emoticon/Display Picture Backup Wizard is a utility for backing up the custom content, like MSN Display Pictures and MSN Emoticons, that you have added to your MSN Messenger account (MSN 6.2, 7.0 or 7.5).

This is useful if you have a lot of emoticons and display pics and can't afford to lose them, have lost the original files, need to re-use the files on another account. If you previously lost your files, MSN Messenger doesn't always delete them so you may be able to recover some images as well. This utility is for anyone that uses a large amount of custom content in MSN Messenger and cant afford to lose them.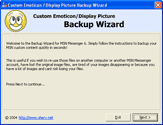 Currently supports backup for MSN Emoticons, Backgrounds and MSN Display Pictures. Compatible with MSN Messenger 6 and 7.

+ Click here for a large screenshot.

+ Download Custom Emoticon / Display Picture Backup Wizard - [43 KB]
Visit the backup wizard page for the latest version and information.
Posted on Saturday, June 12 @ 17:21:19 UTC (199206 reads)
(Read More... | 1745 bytes more | Score: 4.17)
News: MSN Messenger 6.2 Released
MSN Messenger 6.2
MSN 6.2 is now out, Download MSN Messenger 6.2 here :
-> Download MSN Messenger 6.2
No major changes are present here, most of the old tools are working including the CE/DP Stealer.
For those of you who don't know, the
CE/DP Stealer
is a tool to
steal your MSN contacts display pictures and emoticons
. Download it right here: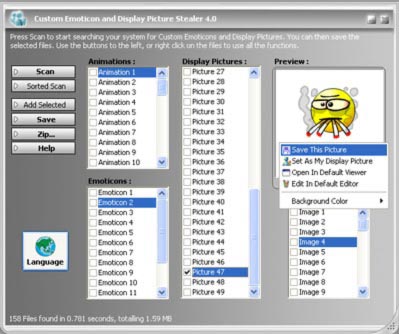 + Download Emoticon/Display Picture Stealer
You can also get your hands on the thousands of free MSN emoticons and Display Pics available here to have some extra fun with MSN 6.2!
Visit the MSN EMOTICONS sections for thousands more!
A lot of high-quality display pictures are available in the free display picture section:
Visit the MSN
DISPLAY PICTURES
for free MSN display picture packs.
Posted on Thursday, April 22 @ 14:01:15 UTC (24832 reads)
(Read More... | Score: 3.30)
News: New MSN Emoticons - 3 New Custom Emoticon Packs
Emoinstaller, the software that automatically installs MSN emoticons along with proper custom emoticon shortcuts has just released 3 new MSN custom emoticon packs/sets.
These packs include Classic Green MSN emoticons, an exclusive new emoticon pack called E-Skimo by Josh and another new exclusive pack called Fusion by new kid on the block Nemuis.
Download these awesome new MSN emoticon packs right here by clicking on the previews below!
These new packs bring up the number of Emoinstaller MSN emoticons packs released to 15 MSN Custom emoticons packs. If you missed out on the other MSN emoticon packs, visit the Emoinstaller website for more automatically installing MSN emoticons!
Posted on Thursday, January 08 @ 10:31:37 UTC (13611 reads)
(Read More... | Score: 3.36)
News: EmoInstaller Launched!
Emoinstaller is a brand new product created in a joint venture between this site and ItsElephants. This amazing software installs custom emoticon packs into MSN Messenger AUTOMATICALLY with proper shortcuts in around 30 seconds with a few clicks.
Moreover, The Emoinstaller custom emoticon sets for MSN Messenger are of exceptionally high quality. 4 Custom Emoticon sets have been released so far, Download them here:
Download these emoticon installers NOW!
Posted on Monday, December 22 @ 14:56:48 UTC (8976 reads)
(Read More... | Score: 5)
News: Added new programs and display pictures
Finally an update with three new items :

Utility for swiftly adding and removing your display pics. Add/Remove 100's of your MSN 6 Display Pictures in seconds.

Utility for backing up your MSN Messenger 6 Custom emoticons/Display pictures/Backgrounds and restoring them later. Great utility if you mess around with your emoticons, now you don't have to worry about losing them!

Make your online buddies feel sick with these disgusting display pictures created by me. (Not for the weak hearted)

Posted on Tuesday, October 07 @ 05:20:53 UTC (9543 reads)
(Read More... | Score: 3.4)
News: MSN 6 Custom Emoticons and Display Pictures
Added a Display Pic pack and a Custom Emoticon set :

Display picture pack by DeViL. 23 beautifully crafted display pics.

Custom Emoticons set based on Windows XP.

Posted on Wednesday, September 17 @ 04:07:02 UTC (19803 reads)
(Read More... | Score: 2.27)
News: Tons of Display Pictures and Custom Emoticons
New Display Picture and Custom emoticon packs have been added.

Display Piture Packs:

Posted on Friday, August 08 @ 01:58:49 UTC (12304 reads)
(Read More... | Score: 3.87)
News: Custom Emoticon and Display Picture Stealer 1.4
Custom Emoticon and Display Picture Stealer version 1.4 is now released !
New features include :
New algorithm - Faster than ever before!
Delete specific images
Right click menu for better functionality
Manual rename allowing you to save images with filenames you set
So what are you waiting for? Download it right here !
CE/DP Stealer 1.4 - 70 KB
Visit the
Forums
for help/bug reports.
Posted on Wednesday, August 06 @ 20:05:06 UTC (11745 reads)
(Read More... | Score: 3.77)
News: CE/DP Manager Now Online !
CE/DP Manager is a utility to make managing MSN 6 custom content easier. It contains 4 great tools and they are :
CE Importer to add many emoticons quickly and automatically - Great for importing custom emoticon packs.

DP Importer to add many display pictures swiftly - Very handy for importing Display Picture packs.

CE Dispatcher for sending all your emoticons to someone. Great for sharing your custom emoticons.

Backup/Restore for backing up your CE/DP and backgrounds. Very useful if your always messing with your emoticons etc

Screenshot right here

What are you waiting for ? Download it right HERE or from the download section!
For help/bug reports etc visit the forums.
Posted on Sunday, July 27 @ 07:33:27 UTC (12793 reads)
(Read More... | Score: 2.14)
The site has been updated with some cool new content.
Added to the download section :

An MSN 6 Hooking example, 2 Font Packs, a VBScript reference and a few other files.

Also added some online tools for PHP-Nuke (module/block maker), and a few other things (Domain look-up , 1337ifier)

And also added some games to play !
Posted on Wednesday, July 16 @ 00:42:46 UTC (8153 reads)
(Read More... | Score: 5)
After quite a bit of work, I've managed to get
9 emoticon packs
up :
Browsers Emoticon/Display Picture Pack Browser related Emoticons and Display Pics. Created by Sherv.
Custom Emoticon Font Pack
19 Great Custom Emoticon Fonts
Custom Emoticon Pack
100 Awesome Emoticons
Custom Emoticon Pack 2
This file includes the following packs : Mario emoticons, Pacman emoticons, SARS Protected emoticons, Extended emoticons and the Rock, Paper, Scissor game emoticons.
Custom Emoticon Pack 3
This file includes the following emoticon packs : Aliens, Numbers, ICQ, Black and White.
Custom Emoticons Pack 4
70 Cool Emoicons.
Display Picture Pack
Many cool display pics!
Forums Custom Emoticon Pack
This pack contains the emoticons from some great forums : phpBB, Invision Power Board, Vbulletin and Snitz.
Status Custom Emoticon Pack
Use these to indicate your status in your away messages and to refer to any status while chatting.
Get them now from the Download section!
Posted on Thursday, July 10 @ 09:17:28 UTC (19724 reads)
(Read More... | Score: 3.63)
V 1.3B of CE/DP Stealer is now online !
This version includes bug fixes and boasts some new features ! These include integration into messenger , Manual renaming of files, right-click menu in file list and
A DUTCH VERSION !
The 'OUT OF MEMORY' error should also be fixed.
Grab 1.3B from the downloads section now !
Make sure you report all bugs and mistakes either to me or at the
forums
.
Posted on Thursday, July 03 @ 14:07:55 UTC (10766 reads)
(Read More... | Score: 3.66)