Messenger Backup Wizard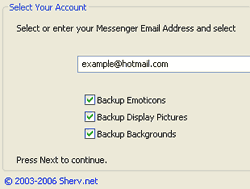 The Messenger Backup Wizard is a free utility which allows you to create a backup of your custom added Messenger content such as Emoticons, Display Pictures, Animations and chat window Backgrounds.


Version 2.2
Messenger users often have a large collection of custom emoticons and display pictures in their accounts, built over a long period of time from many different sources. Losing these graphics can be devastating, specially when the original images and icons are no longer available.
The Messenger Backup Wizard is very small and lightweight (only 128KB) and ready to run (no installation). It works with both MSN Messenger and Windows Live Messenger (8.0, 8.1, 8.5) and correctly backs up all emotions and icons in the correct format (including GIF animations).
This tool was formerly known as the CEDP Backup Wizard (for MSN Messenger 6).
How to Use
Once downloaded, just enter your Messenger account address when prompted by the Wizard to create a full backup of your files. You can also optionally create a Zip archive containing all your files for easy storage and transfer.
Common backup uses
Although most commonly used for its MSN emoticons backup feature, other uses include:
To protect against possibly losing the files in the future
Creating a copy of files for transfer to another Messenger account or computer (e.g. from laptop to home PC)
Saving all your emoticons, etc before formatting
To backup msn emoticons, etc before upgrading MSN/Live Messenger versions
To share some/all of your Messenger graphics with a friend
Questions, comments, and suggestions
If you have any questions or feedback regarding this tool, you can write to us through our contact page. We welcome all your comments, including new feature requests for the backup tool.
Previous news posts and releases
---
© 2003-2008 Sherv.net