MSN Emoticons: Messenger Backup Wizard v2.0 - Backup Display Pictures, Emoticons & Backgrounds!
Posted on Tuesday, August 08 @ 13:36:39 UTC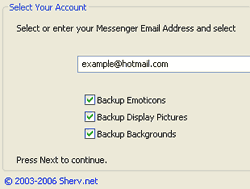 One of our most popular Messenger tools, the CE/DP Backup Wizard has been updated to version 2.0. This version will work with the new Windows Live Messenger 8. For those of you not familiar with the tool, the Backup Wizard allows you to save a backup copy of the custom graphics (avatars, icons, etc) that you have added to Messenger.
This version also introduces support for automatically zipping your backup. You can save copies of all your MSN smileys, Animated Emoticons, Display Pictures and MSN Backgrounds within a couple of seconds. The Wizard also contains clear instructions and is very simple to use!
The Backup Wizard is small (128kb) and requires no installation. Works with MSN Messenger 7, the outdated MSN 6 and the latest Live Messenger 8.
You can check out a full size screenshot here.
But why would I want to backup my Messenger Emoticons, etc?
Good question, there are many reasons for backing up your Messenger content, some of the most common are:
Copying collections of Emoticons, MSN Display Pics, etc for moving between multiple computers or Messenger accounts.
Backing up Messenger content before formatting a computer.
As a precaution, so that for example, in case you lose your Emoticons in Messenger for whatever reason - you still have a backup.
Some users are also nervous about losing their graphics when upgrading their Messenger version (for example from
MSN 7.5 to Live Messenger 8.0
). The backup tool is sometimes also used to recover
emoticons and display pictures
when the original files are lost.
In short, you can use this program to backup all your Windows Live Messenger emoticons, avatars, display pictures and chat backgrounds!