MSN Emoticons: Backup Wizard 2.2: Backup Messenger Emoticons, Display Pics, etc
Posted on Thursday, December 14 @ 01:48:18 UTC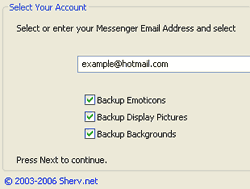 The Messenger Backup Wizard has been updated to version 2.2. The Backup Wizard can be used to create a backup copy of your Messenger Emoticons, Avatars, Animations and Display Pics.
This new version adds complete support for the new Windows Live Messenger 8.1, and has been fully tested with the latest Live Messenger 8.1.0168.
+ Download Messenger Backup Wizard 2.2
This new version also contains improved support for automatic detection of Messenger sign-in addresses.
NOTE: Users who upgraded from MSN Messenger 7 (7.0 or 7.5) to Live Messenger 8.1 should note that the generated backups may include some duplicate Emoticons, Avatars and Backgrounds.
Have suggestions or questions about the Backup Wizard? Just send us an email.