MSN Display Pictures: New CE/DP Stealer 6.0 for Messenger released
Posted on Thursday, January 25 @ 11:57:59 UTC
CE/DP Stealer, the original tool for stealing Messenger Display Pictures, Emoticons and more from your contacts has been updated to version 6.0!
The Stealer works with all versions of MSN and Live Messenger (including 8.5)!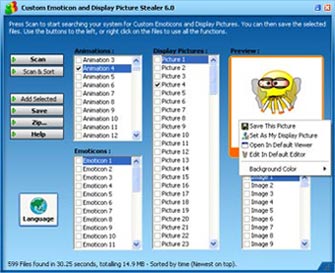 Download CE/DP Stealer to start robbing your Messenger contacts!
Find out what's new in this brand new version!
What's new in CE/DP Stealer 6?
The new CE/DP Stealer 6.0 works great with Live Messenger 8, allowing you to steal display pics, icons, animations, blog pictures and more! The scanning process has been improved, becoming fast and providing better detection of animations and animated smileys.
Two of the most frequently requested languages translations have been added: Arabic and Turkish are now fully supported!
Finally, with the upcoming Windows Live Messenger 8.1 finally adding support for the Thai language, we've decided to do the same by adding full support for the Thai language in CE/DP Stealer 6.0!
Here is the full list of changes for this version:
Full support for Windows Live Messenger 8.1 and 8.5
3 new languages added: Arabic, Thai and Turkish
Redesigned user interface
Improved detection of Animations and animated emoticons
Improved scanning speed and responsiveness, removed 1000 file scan limit
Saved files are now categorized into separate folders by type (Display Pictures, Emoticons, etc)
Many small bug fixes and an improved installer/uninstaller
To find out more about CE/DP Stealer, you can visit the CE/DP Stealer page.