Free animated Christmas emoticons for MSN and Live Messenger
Monday, 15 Dec. '08
6 comments
4
Looking to decorate your MSN or Windows Live Messenger with some fresh Christmas emoticons this holiday season? Microsoft has provided a free Christmas emoticon pack as a special treat for Messenger users this holiday season!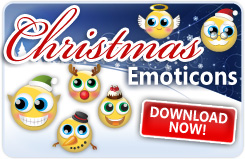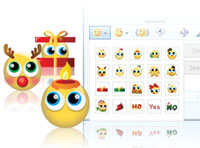 This special Christmas treat contains a set of 24 animated emoticons for Messenger. You can download it below.
These animated Christmas emoticons come with an automatic installer which adds the emoticons into your account with a few clicks. Just click the download link above and run it to get the emoticons. It includes Santa emoticons, gifts, presents, smileys, elves and much more.
Keep in mind that these emoticons are only compatible with MSN Messenger and WLM, you can't use them in emails, blogs and other places. You can visit our christmas emoticons gallery if you wish to download only a few emoticons or get emoticon codes for emails and blogs.
An important note regarding the emoticon installer: The installer includes options for changing your default search engine to Live Search and setting MSN as your browser homepage. If you do not wish to make these changes, simply untick the two checkboxes on the license agreement page and continue to install the emoticons for free.
Merry Christmas and Happy Holidays!
Write a Comment
Tags: Christmas, Xmas, Santa, Claus