Emoticarolers, free Christmas emoticons that sing
Sunday, 14 Dec. '08
7 comments
3.22
Yahoo has created a new Christmas related website called Emoticarolers that allows you to make personalized holiday carols and send them to your friends. You choose the emoticons, write the lyrics and they'll sing it!
The Yahoo Messenger emoticons want to help you spread some holiday cheer. Create a personalized carol, and then send them off to the digital doorsteps of your friends and loved ones.
To start creating your own custom caroling emoticons, simply head over to emoticarolers.com and follow the simple instructions.
First you need to choose 4 emoticarolers from the available 8. Each emoticon has a unique tune, so be sure to play with different combinations. Some emoticons have a musical instrument, we recommend including one or two of them to add some cool sound effects to your Christmas jingle.
Next up, choose a classic holiday tune and set the lyrics. You can choose between Jingle Bells, Deck The Halls and Auld Lang Syne. For the lyrics, you can use the original words, ready made parody lyrics or have some fun and write your very own lyrics. The funnier, the merrier! Note that you can used a hyphen to fit two words in a text field, e.g. sing-loudly or begin-to.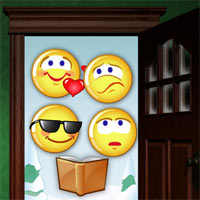 Now you can preview your emoticons singing your carol, and finalize it if you like what you see and hear. Otherwise you can go back and edit it some more. Once you're finished, you can do one of the following:
Send them off via Yahoo! Messenger

Email them to someone near and dear

Share and embed (URL or HTML embed code)

You can also download an MP3 of your carol
Want to send Christmas emoticons in MSN or Windows Live Messenger? Not a problem, we've got plenty of those for you. Just visit our free christmas emoticons page and download some emoticons. These, along with the rest of our free animated emoticons can be directly added to MSN Messenger and used there.
Alternatively, once you've created your carol, you can also use the URL to send it to your friends on MSN or Live Messenger. All they have to do is click the link and go to the website to hear your creation.
For those of you interested, this tool uses Speech Synthesis to artificially produce human speech, which makes the carol sound a bit robotic. One final note, swearing or other rude words will be replaced with the word La in your carol.
Turn up the volume and spread the cheer!
Write a Comment
Tags: Christmas, Xmas, Emoticarolers, Carols, Emoticons