Turkey emoticons and free animated Thanksgiving smileys!
Wednesday, 23 Nov. '11
1 comments
3.82
Looking for an animated turkey emoticon? Want to post some on Facebook? Then just check out free Thanksgiving smiley gallery! There is a huge range of stuff that you can grab.
If you want to browse them one by one, just go to the free thanksgiving smileys page and start checking them out. There are loads of them!



Go over to the gallery and you'll see... there are turkeys everywhere! Many of these are very funny. Our personal favorites are the dancing and eating ones.
All of these animations and icons are in GIF format, so you can use them from pretty much anywhere. We even give you special codes to paste them in your websites, blogs, emails and even forum posts and comments. Just click on any turkey icon that you like and grab the code.
While you're updating your smileys you can get ready for the other holidays coming up: you probably know that Christmas is right around the corner and then we welcome the new year a few days later!
We work hard to bring you these animated emoticons and sincerely hope that you enjoy them and have a wonder Thanksgiving day!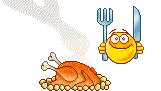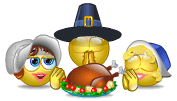 Write a Comment
Tags: Turkey, Thanksgiving, Emoticons, Smileys, Animated