Emoticon Maker released, make emoticons and smileys
Saturday, 7 Jun. '08
11 comments
3.12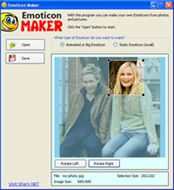 Ever wanted to use your own photos and pictures as emoticons? Well look no further, you can now create an emoticon from any image with our brand new Emoticon Maker program!

Visit the Emoticon Maker page for more information about this program.
Making emoticons has never been easier
There's never been a better time to make your own emoticons, the Emoticon Maker program can create emoticons from just about any image. Make icons of yourself, your face, your friends, celebrities, movies, or anything else.
You can download the software in a flash and install it within a few seconds. Once installed, you're ready to start making your own emoticons immediately. The program is very easy to use with a simple click and create interface, you just open your image files and convert them into emoticons and smileys.
How to create new emoticons?
The Emoticon Maker supports PNG, JPEG, BMP and GIF files, including animated GIFs. You can choose which part of the image will be included in your emoticon, and rotate your images in the icon editor. You may also select the emoticon type, either big emoticons which are animated, or standard small emoticons.
Once you've saved your emoticon, you can use it anywhere you like. You can upload it and use it in Internet blogs, forums and social networks (e.g. MySpace, Bebo, etc). More importantly, all created emoticons and smileys can be added to MSN Messenger and Windows Live Messenger.
If you create some really cool emoticons, be sure to send them to us. We add most user submissions to our free emoticons gallery, to be shared with other users. Sharing is caring, so feel free to send your icons and smileys in.
Online Icon Maker
For those of you that do not wish to download and install the program, we have an alternative way to make emoticons. You can use our online emoticon maker to create emoticons straight from your browser window. The functionality is the same for the most part, with the exception of animated emoticons. The Emoticon Maker program can make animated emoticons, but the online Icon Maker can not. While this may change in the future, only the downloadable software can make an emoticon from an animation for the time being.
Write a Comment
Tags: Make, Create, Emoticons, Smileys, Maker, Software