Windows Live Messenger 2009 RC released, ready for download
Sunday, 21 Dec. '08
57 comments
3.9
A new Release Candidate (RC) for Windows Live Messenger 2009 has been officially released and can now be downloaded from the Windows Live Essential site.

This release has the version number 14.0.8050.1202 and the BETA tag has been dropped. While there are many changes since the last public BETA release, most of these are bug fixes and no major new features have been added.
Download the Live Messenger 2009 RC
You can download the newest version directly from the Windows Live Essential website. Downloading and installing it is a short and simple process.
A quick note for those of you with a slow Internet connection: While the Windows Live Installer is approximately 1.1MB in size, it downloaded a further 30MB worth of data during the course of the installation.
At the end of the installation, you will also be asked to set your default search engine to Live Search and set MSN as your homepage. You will also receive a prompt to create anew Windows Live ID, in case you do not already have one or wish to create a new one.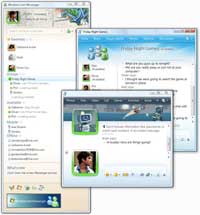 Changes and new features
As is seemingly customary with every WLM release, the user interface has been redesigned yet again. Pop-up toasts have also been redesigned and now have a cool transparency effect, the IM window has also been changed. This time the sign-in screen layout has also been changed, and a new Messenger application icon has been introduced. There are also new icons in the UI and for the tray area. The new contact notification dialog has also been changed, and is much more clear to use and navigate.
Those of you who enjoy using emoticons will be glad to know that the extremely annoying custom emoticon bug has now been fixed, all of your emoticons and smileys are now displayed correctly as you type them in your messages. This new build also includes over 20 brand new animated display pictures and status icons that you can use.
Unfortunately the signature sounds feature that allowed you to set your own custom sign-in sound has been removed. This is most likely due to the fact that annoying or offensive sounds could be chosen by some users to abuse the feature, it was a novel idea while it lasted. You can still assign sounds to your contacts, but they will only play locally on your computer.
Other changes include:
You can now save shared photos
Contact status (such as Online, Away, Busy, etc.) is no longer shown by default
Many new contact list layout options
What's new list now shown in IM windows
Over 200 bug fixes since the last BETA version
Update to Windows 7 jumplists
Windows Live SkyDrive replaces the old Sharing Folders feature
built-in polygamy (multi msn), not confirmed yet
and many more small changes
Microsoft has been putting a lot of effort into the Windows Live Messenger product, which has come a long way since dropping the MSN Messenger name. We hope that they continue to make positive changes and improvements to WLM as we approach the final public release of the client, expected in February 2009.
Write a Comment
Tags: WLM, Windows, Live, Messenger, 2009, RC, BETA