Windows Live Messenger 2010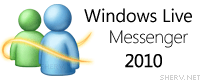 The upcoming Windows Live Messenger 2010 is the successor to WLM 2009, promising to bring with it a slew of brand new features and updates. The 2010 version of the popular IM client does not currently have a release date, but it will most likely be available for download sometime in the first quarter of 2010.
The sleek new Windows Live Messenger 2010 boasts many new features, with the main focus being on the integration of social streams from social networks such as Facebook and Twitter.
Download
No version is currently available for download as the latest version is currently unreleased.
Tabbed chat windows
It may have taken a long time, but tabbed conversations windows have finally arrived with WLM 2010.
The concept of using "tabs" to is nothing new, and you will no longer need to keep track of multiple windows when chatting to your Messenger contacts. You have a single chat window with a tab for each conversation, much like the Internet Explorer or Firefox browsing tabs. Each tab has a small icon displaying the contact's current status as well as an X to close the tab.
Here is a picture revealing what a chat tab may look like: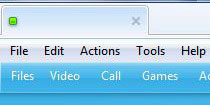 Other changes
The new edition of the chat client will bring many small changes all around, here are some that we know about:
The Emoticons and Winks menus have been combined into a single menu
Updated and full support for the Windows 7 taskbar
This page will be updated with more info as it becomes available.