MSN Names: Love MSN Names
Posted on Saturday, January 22 @ 19:03:56 UTC
Just in time for Valentine's Day, a new compilation of Love MSN Names for download!
The Love MSN Names compilation provides you with the greatest Love MSN Messenger nick names for you to use for Valentine's Day or just in general.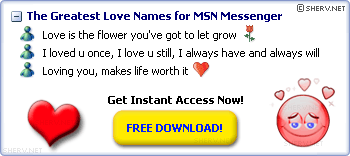 Quick Download, Easy Setup, Lots of fun! You'll have access to the best Love MSN names in a matter of seconds!
You can also browse the Love MSN Names category of the MSN Names section for more nicknames!