Hello Kitty Cursors
This is the Hello Kitty cursor collection, where you can find all of our free hello kitty cursors and their codes for MySpace and such.
There are 4 cursors in the Hello Kitty Cursors pack.
Free hello kitty cursors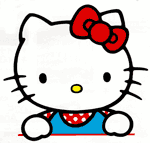 Hello Kitty is a simple fictional character, designed by the Sanrio Company in Japan. Since its creation in 1974, Hello Kitty has become a globally recognized character, cementing it's place in pop culture history. Hello kitty is very adorable cat, which most likely plays a big part in its extreme popularity. Products bearing the Hello Kitty character can be found all across the world and the Internet, so it comes as no surprise that the character was also introduced to the world of cursors.
Each and every myspace hello kitty cursor comes ready with a cursor code that you can copy. These cursors are perfect to add to your page, specially if you've got a Hello Kitty layout or theme for your MySpace page. They also generally go well with most cute or fun type layouts.
Picking a new cursor for your page is about as simple as drawing Hello Kitty! You start by browsing all the different cursors, and click it when you've found one you want to set for your page. On the next page you can copy the Hello Kitty cursor code and paste it to your page (MySpace, Bebo, Xanga, etc). After you've pasted the code and saved it, your new cursor will appear on the page!
The Hello Kitty character and other related material © 1976-2008 SANRIO CO., LTD.