Heart cursors
Bling out your page or profile by adding one of our heart cursors. No matter what type of heart cursor you're seeking, we've got lots of them.
There are 6 cursors in the Heart cursors pack.
Free heart cursors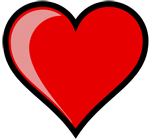 As you can see above, we've got all the free heart cursors and codes you need right here.
The heart is a globally recognized symbol that depicts love, stylized versions of the heart are prevalent in many aspects of society. Historically, the heart has been recognized as the driving force behind emotions, thoughts and the human soul. Today, the heart is typically illustrated in a red color representing blood, emotion and love. It is an icon that is particularly associated with romance and love, often being seen on romantic products such cards and gifts (specially on Valentine's day).
The popularity of hearts as a symbol is also present in the field of mouse cursors. Cute heart cursors have become increasingly popular on places like MySpace, Friendster, Bebo and Hi5. Decorating your page with an animated heart cursor definitely beats going around and carving hearts into trees and tables!
Our heart cursors come in all shapes and colors; we've got red, blue, black, green and even purple cursors. Some of them have special glitter effects and most of the cursors are animated. Using our site, you can have multiple heart cursors thanks to our cursor code generator. Just find the cursors you like and copy the codes.
The heart symbol is even available as a printable character in many fonts, it looks like this: ♥. For those of you interested in learning more about the symbolism of the heart, you can check out this wiki page for more details.
We hope you enjoy these heart cursors for MySpace.