MSN Display Pictures: EURO 2004 Spain MSN Emoticons & Display Pictures
Posted on Tuesday, June 01 @ 14:41:21 CDT
With the EURO 2004 soccer championship only 10 days away, Spain is one of the favourites to win the cup going into the competition. Available for download is a brand new MSN Pack featuring the complete Spanish football team.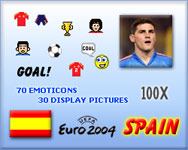 This pack is loaded with cool emoticons and display pics, it contains over 100 Emoticons & Display Pictures for use with MSN Messenger, featuring the complete Spanish team (Includes display pictures of all the players) and many other related emoticons that can be used during the competition. You can download it below and support your team!
+ Download Spain EURO 2004 MSN Pack
Look out for more EURO 2004 stuff coming very soon.
Re: EURO 2004 Spain MSN Emoticons & Display Pictures (Score: 0)
by Anonymous on Tuesday, June 01 @ 15:08:42 CDT
THIS IS AWESOME!!!!!

SO MUCH STUFF IN THIS PACK, GOOD JOB!
Re: EURO 2004 Spain MSN Emoticons & Display Pictures by Anonymous on Tuesday, June 01 @ 23:09:12 CDT


Re: EURO 2004 Spain MSN Emoticons & Display Pictures by Anonymous on Wednesday, June 02 @ 00:32:46 CDT