Downloads: SmileySaver - Free Smiley Face Screensaver
Posted on Sunday, March 26 @ 05:28:53 UTC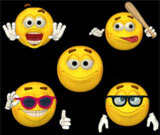 SmileySaver is a free screensaver based on our popular set of 3D Smiley Display Pics for Messenger!
The screensaver features lots of different smiley faces which appear on your screen when activated. Its a great screensaver for smiley and emoticon fans.
+ Download SmileySaver Screensaver
The smiley screen saver adds cheer to your desktop with many unique and high-quality cool and funny smileys!
SmileySaver is quite flexible, it allows you to configure things such as the appearance order of the smiley faces and how long each smiley is shown, smiley face transition effects and you can even add your own custom music to play which the screensaver is active!
We hope you enjoy using the Smiley Face Screensaver!