MSN Emoticons: EZ Emoticons 3.0 for MSN Messenger 6 and 7
Posted on Sunday, September 11 @ 22:19:45 UTC
EZ Emoticons 3.0 for MSN Messenger has been released! EZ Emoticons allows you to use emoticons in MSN Messenger without remembering their shortcuts. You simply click on an emoticon and it will be inserted into your message, so you can use hundreds of animated MSN emoticons, MSN Icons, Smileys and MSN Emotions without remembering a single shortcut!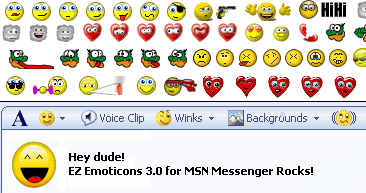 Click Here to Download
Version 3.0 removes the 300 emoticon limit and you can now use unlimited emoticons with EZ Emoticons! An all new design now previews Animated MSN Emoticons along with many other improvements. For more details go to the EZ Emoticons for MSN Messenger Page.
EZ Emoticons is compatible with MSN Messenger 7.0 and 7.5, as well as MSN Messenger 6.x.

Click Here to download EZ Emoticons for MSN Messenger 6 and 7!