MSN Emoticons: MyEmoticons Free MSN Emotions and Emoticons software
Posted on Monday, June 28 @ 00:52:59 UTC
MyEmoticons is a new product for MSN Messenger 6. MyEmoticons is focused on providing premium MSN emoticons for free, and useful software along with it to enhance your MSN Messenger experience!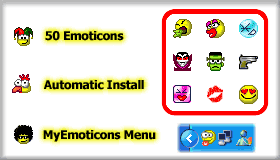 Not only does MyEmoticons come with 50 cool MSN emoticons, it also includes the MyEmoticons menu which is similar to MSN Messenger's own standard emoticon menu, but the MyEmoticons menu shows your custom emoticons so you wont need to remember any more emoticon keyboard shortcuts again!
MyEmoticons is compatible with MSN Messenger 6.0, 6.1 and 6.2, your friends do not need MyEmoticons installed to view the emoticons.
+ Click here for a screenshot

+ Download MyEmoticons for MSN Messenger now!