Black man troll animated emoticon
These are the black man troll emoticons we have. We found 2 results. All of our black man troll smileys are free to download.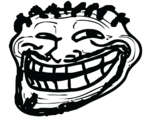 This is a black guy version of troll meme emoticons.
Added on 03 November, 2012
Filename: black-guy-troll-smiley-emoticon.png
File size: 23442 bytes
1 frames measuring 150 x 119 pixels

Here is an emoticon for the I Feels Yah troll rage comic meme character.
Added on 08 November, 2012
Filename: i-feels-yah-troll-smiley-emoticon.png
File size: 7544 bytes
1 frames measuring 127 x 100 pixels