Crying yao ming smilies and emoticons
These are the crying yao ming emoticons we have. We found 1 result. All of our crying yao ming smileys are free to download.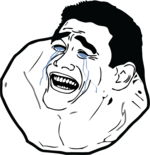 What you can see above is a combination of Yao Ming Fuck That bitch and Forever Alone guy emoticons two major characters of rage memes.
Added on 08 November, 2012
Filename: yao-ming-forever-alone-smiley-emoticon.png
File size: 45017 bytes
Rated 3.31 from 13 votes
1 frames measuring 150 x 155 pixels