Chess animated emoticon
These are the chess emoticons we have. We found 2 results. All of our chess smileys are free to download.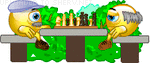 The image is of two old persons seated outside playing a game of chess.
Added on 06 February, 2014
Filename: old-people-playing-chess-smiley-emoticon.gif
File size: 149993 bytes
53 frames measuring 150 x 63 pixels

This is an image of a smiley face having fun playing a game of chess.
Added on 06 February, 2014
Filename: chess-smiley-emoticon.gif
File size: 32293 bytes
Rated 4.21 from 7 votes
50 frames measuring 106 x 61 pixels