Yuck emoticon
These are the yuck emoticons we have. We found 2 results. All of our yuck smileys are free to download.

A despicable or repulsive person can be pointed to by a slime smiley face.
Added on 21 October, 2011
Filename: slime.gif
File size: 8089 bytes
21 frames measuring 50 x 67 pixels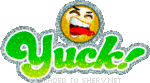 This is a funny image of a smiley face sticking its tongue out and making a face as if it has seen or eaten something disgusting.
Added on 06 February, 2014
Filename: yuck-smiley-emoticon.gif
File size: 18589 bytes
Rated 3.07 from 7 votes
3 frames measuring 150 x 83 pixels