Free yellow smiley emoticon
These are the yellow smiley emoticons we have. We found 3 results. All of our yellow smiley smileys are free to download.

This smiley face is happy and agrees with whatever you're saying.
Added on 06 September, 2012
Filename: smiley-says-yes-emoticon.gif
File size: 33657 bytes
Rated 4.14 from 36 votes
20 frames measuring 45 x 49 pixels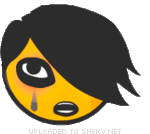 Why are you sad today, little emo guy?
Added on 11 February, 2014
Filename: emo-musician-smiley-crying-emoticon.gif
File size: 172601 bytes
Rated 3.20 from 5 votes
39 frames measuring 150 x 134 pixels

An emoticon impersonating celebrity Michael Jackson.
Added on 11 February, 2014
Filename: michael-jackson-waving-smiley-emoticon.gif
File size: 24259 bytes
Rated 4.70 from 5 votes
19 frames measuring 50 x 50 pixels