Free white ball emoticon
These are the white ball emoticons we have. We found 2 results. All of our white ball smileys are free to download.

An animation of a soccer ball spinning slowly, almost hypnotically.
Added on 06 February, 2014
Filename: soccer-ball-smiley-emoticon-1.gif
File size: 9937 bytes
14 frames measuring 48 x 46 pixels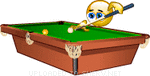 The image is of an individual playing a game of pool.
Added on 06 February, 2014
Filename: playing-a-game-of-pool-smiley-emoticon.gif
File size: 124275 bytes
Rated 3.42 from 6 votes
34 frames measuring 150 x 76 pixels