Free werewolf emoticon
These are the werewolf emoticons we have. We found 3 results. All of our werewolf smileys are free to download.

This is a werewolf that is howling!
Added on 08 October, 2011
Filename: werewolf.gif
File size: 50988 bytes
Rated 4.45 from 11 votes
19 frames measuring 77 x 77 pixels

If you love werewolf, or want to post something exceptional to your online contacts, then you can insert the horror smiley.
Added on 20 December, 2012
Filename: wolf-smiley-emoticon.gif
File size: 7958 bytes
6 frames measuring 49 x 50 pixels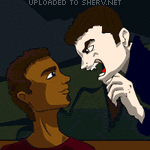 Look, here's our red hot werewolf smiley.
Added on 21 December, 2012
Filename: werewolf-smiley-emoticon.gif
File size: 124923 bytes
10 frames measuring 150 x 150 pixels