Free true story emoticon
These are the true story emoticons we have. We found 2 results. All of our true story smileys are free to download.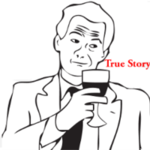 This Rage face meme character has been taken from a still shot of Barney Stinson in the first episode of How I Met your Mother's fourth season.
Added on 03 November, 2012
Filename: true-story-meme-smiley-emoticon.png
File size: 47206 bytes
Rated 3.88 from 34 votes
1 frames measuring 150 x 150 pixels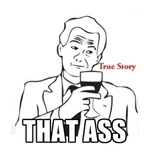 This is a variant of the "True Story" Guy form the Rage Faces series along with the caption "That Ass" or "Dat Ass" as if he is admiring the a well-shaped buttocks of a female.
Added on 03 November, 2012
Filename: true-story-troll-smiley-emoticon.jpg
File size: 12241 bytes
1 frames measuring 150 x 151 pixels