Free temperature emoticon
These are the temperature emoticons we have. We found 3 results. All of our temperature smileys are free to download.

Image of an individual with his face looking away and drops of sweat on his back.
Added on 02 February, 2014
Filename: sweat-smiley-emoticon.png
File size: 10462 bytes
Rated 3.10 from 5 votes
1 frames measuring 121 x 108 pixels

This image is of the word sick.
Added on 05 February, 2014
Filename: sick-smiley-emoticon.gif
File size: 19400 bytes
Rated 4.35 from 10 votes
19 frames measuring 129 x 49 pixels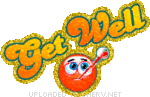 This is an image of a smiley face that appears to be sick.
Added on 06 February, 2014
Filename: get-well-smiley-emoticon.gif
File size: 19560 bytes
3 frames measuring 150 x 97 pixels