Surrender emoticon
These are the surrender emoticons we have. We found 3 results. All of our surrender smileys are free to download.

This smiley face is giving himself up to his opponent.
Added on 16 August, 2011
Filename: waving-white-flag.gif
File size: 7843 bytes
Rated 3.89 from 59 votes
8 frames measuring 36 x 48 pixels

Image is of an individual with his hands up.
Added on 02 February, 2014
Filename: surrender-smiley-emoticon.png
File size: 7289 bytes
1 frames measuring 120 x 115 pixels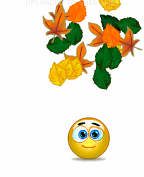 The image is of leaves falling on an individual.
Added on 13 February, 2014
Filename: autumn-season-smiley-emoticon.gif
File size: 221049 bytes
Rated 3.60 from 5 votes
49 frames measuring 144 x 177 pixels