Super mario emoticon
These are the super mario emoticons we have. We found 2 results. All of our super mario smileys are free to download.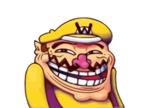 Here is a Wario Troll character from the famous Mario Nintendo games.
Added on 03 November, 2012
Filename: troll-wario-smiley-emoticon.png
File size: 45227 bytes
1 frames measuring 150 x 108 pixels

Which nintendo graphic from our gallery is your absolute preferred one?
Added on 06 February, 2014
Filename: super-mario-smiley-emoticon.png
File size: 9211 bytes
Rated 3.41 from 11 votes
1 frames measuring 113 x 141 pixels