Strawberry emoticon
These are the strawberry emoticons we have. We found 3 results. All of our strawberry smileys are free to download.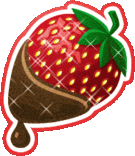 Here we have a smiley strawberry.
Added on 19 July, 2012
Filename: strawberry-dipped-in-chocolate-smiley-emoticon.gif
File size: 41327 bytes
Rated 3.72 from 20 votes
3 frames measuring 135 x 156 pixels

Image is of a piece of cake probably chocolate due to its brown color.
Added on 07 February, 2014
Filename: piece-of-cake-smiley-emoticon.png
File size: 9207 bytes
1 frames measuring 107 x 114 pixels

We have a smiley for all of you!
Added on 14 February, 2014
Filename: strawberry-smiley-emoticon-emoji.png
File size: 414 bytes
1 frames measuring 28 x 31 pixels