Free snake emoticon
These are the snake emoticons we have. We found 2 results. All of our snake smileys are free to download.

The image is a green snake that has raised its head and is swaying fro side to side.
Added on 06 February, 2014
Filename: swinging-snake-smiley-emoticon.gif
File size: 91555 bytes
Rated 4.86 from 7 votes
25 frames measuring 81 x 108 pixels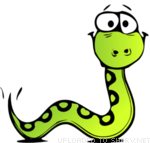 Image of a snake raising its head and looking on, possibly in surprise.
Added on 06 February, 2014
Filename: surprised-snake-smiley-emoticon.png
File size: 15406 bytes
Rated 4.80 from 5 votes
1 frames measuring 150 x 143 pixels