Shovel smilies and emoticons
These are the shovel emoticons we have. We found 2 results. All of our shovel smileys are free to download.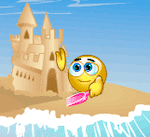 This image is a happy smiley face building a sand castle on the beach.
Added on 06 February, 2014
Filename: sand-castle-smiley-emoticon.gif
File size: 363069 bytes
43 frames measuring 150 x 137 pixels

Shovel, home and object graphics are super duper!
Added on 15 February, 2014
Filename: shovel-smiley-emoticon-emoji.png
File size: 402 bytes
Rated 4.12 from 13 votes
1 frames measuring 23 x 60 pixels