Road smilies and emoticons
These are the road emoticons we have. We found 3 results. All of our road smileys are free to download.

This dude is the typical angry driver.
Added on 12 October, 2011
Filename: road-rage.gif
File size: 15292 bytes
Rated 4.17 from 9 votes
8 frames measuring 60 x 60 pixels

A passenger smiley face is very bored during the ride.
Added on 15 October, 2011
Filename: moon-from-car.gif
File size: 31185 bytes
Rated 4.03 from 39 votes
30 frames measuring 130 x 50 pixels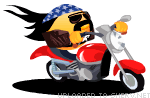 Nothing says "freedom" as much as a biker going his own way, travelling the roads aimlessly and just being the ultimate bad boy.
Added on 06 February, 2014
Filename: biker-smiley-emoticon-2.gif
File size: 30484 bytes
Rated 3.89 from 47 votes
6 frames measuring 150 x 98 pixels