Free pupils emoticon
These are the pupils emoticons we have. We found 2 results. All of our pupils smileys are free to download.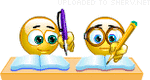 The image is of two individuals seated next to each other probably in a classroom.
Added on 07 February, 2014
Filename: at-school-smiley-emoticon.gif
File size: 241903 bytes
Rated 4.30 from 15 votes
55 frames measuring 150 x 80 pixels

The image is of a pupil in a math class asking what 2+2 will add up to.
Added on 10 February, 2014
Filename: math-problem-smiley-emoticon.gif
File size: 33252 bytes
Rated 4.55 from 10 votes
30 frames measuring 77 x 68 pixels