Princess emoticon
These are the princess emoticons we have. We found 3 results. All of our princess smileys are free to download.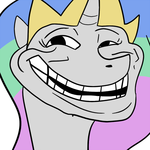 Trollestia is a nickname for Princess Celestia from MY little Pony Friendship is Magic (MLP) TV series who has been involved in the act of trolling and behaving badly and acting mischievously.
Added on 03 November, 2012
Filename: mlp-troll-smiley-emoticon.png
File size: 26562 bytes
1 frames measuring 150 x 150 pixels

This image is of the word "Princess.
Added on 06 February, 2014
Filename: princess-smiley-emoticon.gif
File size: 46824 bytes
15 frames measuring 150 x 29 pixels

This is an image of a princess or damsel smiley face.
Added on 07 February, 2014
Filename: damsel-smiley-emoticon.gif
File size: 13023 bytes
9 frames measuring 98 x 98 pixels