Pirate smilies and emoticons
These are the pirate emoticons we have. We found 3 results. All of our pirate smileys are free to download.

How nice is it to check out this smiley?
Added on 26 July, 2012
Filename: pirate-bulldog-smiley-emoticon.gif
File size: 7864 bytes
Rated 4.50 from 8 votes
1 frames measuring 123 x 112 pixels

Insert zest, spice and character into your conversations with this pot-belly pirate icon!
Added on 29 July, 2012
Filename: fat-pirate-waving-smiley-emoticon.gif
File size: 11040 bytes
Rated 4.19 from 13 votes
12 frames measuring 50 x 43 pixels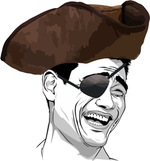 There has been so many derivatives of Yao Ming meme faces and this pirate Yao Ming Rage emoticon is one of the nicer ones we have found.
Added on 08 November, 2012
Filename: yao-ming-pirate-rage-smiley-emoticon.png
File size: 75632 bytes
Rated 2.36 from 7 votes
1 frames measuring 150 x 161 pixels