Personal hygiene smilies and emoticons
These are the personal hygiene emoticons we have. We found 2 results. All of our personal hygiene smileys are free to download.

The image is of an individual applying shaving cream on his beard and then shaving using a razor.
Added on 06 February, 2014
Filename: using-shaving-cream-and-razor-smiley-emoticon.gif
File size: 50066 bytes
Rated 4.50 from 12 votes
25 frames measuring 105 x 88 pixels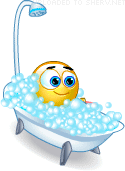 This is a cute image of a smiley face taking a bubble bath.
Added on 06 February, 2014
Filename: bubble-bath-smiley-emoticon.gif
File size: 65068 bytes
Rated 4.12 from 13 votes
16 frames measuring 125 x 171 pixels