Free owl emoticon
These are the owl emoticons we have. We found 2 results. All of our owl smileys are free to download.

This scary Halloween owl smiley face is trying play his part in the celebration.
Added on 24 October, 2011
Filename: halloween-owl.gif
File size: 50665 bytes
Rated 3.43 from 14 votes
15 frames measuring 92 x 88 pixels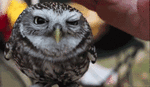 We've always had a thing for owl smiley faces similar to this.
Added on 04 December, 2012
Filename: petting-owl-smiley-emoticon.gif
File size: 387480 bytes
Rated 4.25 from 20 votes
30 frames measuring 150 x 87 pixels