Free neil tyson emoticon
These are the neil tyson emoticons we have. We found 1 result. All of our neil tyson smileys are free to download.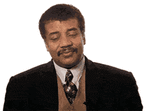 "Watch out Guys, We Got a Badass over Here" is a catchphrase which repeatedly accompanies this Neil Degrass Tyson's meme from Rage Comics series.
Added on 03 November, 2012
Filename: badass-animated-meme-smiley-emoticon.gif
File size: 273826 bytes
Rated 4.11 from 53 votes
29 frames measuring 150 x 111 pixels