Morphing animated emoticon
These are the morphing emoticons we have. We found 3 results. All of our morphing smileys are free to download.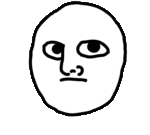 This trolling meme emoticon character hides himself behind a normal and ordinary face but reveals his identity after his trolling mission is successfully completed!
Added on 08 November, 2012
Filename: masked-troll-face-rage-smiley-emoticon.gif
File size: 31599 bytes
Rated 4.33 from 12 votes
10 frames measuring 150 x 135 pixels

This graphic is nice.
Added on 11 February, 2014
Filename: michael-thru-the-years-smiley-emoticon.gif
File size: 31875 bytes
40 frames measuring 85 x 89 pixels

Add flavor and humor to your conversations by using this morphing icon!
Added on 11 February, 2014
Filename: morphing-i-love-you-smiley-emoticon.gif
File size: 1530 bytes
17 frames measuring 21 x 40 pixels