Free meme problem emoticon
These are the meme problem emoticons we have. We found 2 results. All of our meme problem smileys are free to download.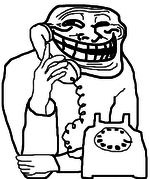 The troll meme character this time is on the phone attending to his trolling affairs.
Added on 03 November, 2012
Filename: trollface-problem-meme-smiley-emoticon.png
File size: 10545 bytes
Rated 4.75 from 12 votes
1 frames measuring 150 x 179 pixels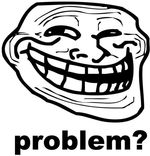 This meme face "Problem" is by far the most famous and known face of Troll meme emoticons.
Added on 03 November, 2012
Filename: problem-meme-smiley-emoticon.jpg
File size: 8561 bytes
Rated 4.68 from 14 votes
1 frames measuring 150 x 156 pixels