Kazoo animated emoticon
These are the kazoo emoticons we have. We found 2 results. All of our kazoo smileys are free to download.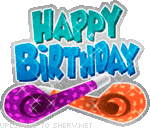 The image is of the words "HAPPY BiRTHDAY".
Added on 05 February, 2014
Filename: birthday-party-smiley-emoticon.gif
File size: 39961 bytes
Rated 3.55 from 68 votes
3 frames measuring 150 x 128 pixels

The image is of an individual in a party hat blowing a Kazoo.
Added on 05 February, 2014
Filename: blowing-a-kazoo-smiley-emoticon.gif
File size: 9120 bytes
Rated 3.59 from 17 votes
20 frames measuring 70 x 71 pixels