Internet smilies and emoticons
These are the internet emoticons we have. We found 2 results. All of our internet smileys are free to download.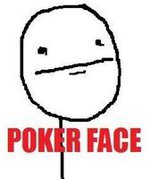 Poker Face meme smiley face is about a rage comics character who keeps a straight face and a blank expression on his face during embarrassing and awkward situations that he experiences.
Added on 03 November, 2012
Filename: poker-face-meme-smiley-emoticon.jpg
File size: 6072 bytes
Rated 4.32 from 11 votes
1 frames measuring 150 x 179 pixels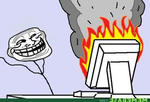 The Troll Guy sets the Internet on fire!
Added on 08 November, 2012
Filename: maximum-success-trolling-smiley-emoticon.png
File size: 21647 bytes
1 frames measuring 150 x 102 pixels