Idunnolol smilies and emoticons
These are the idunnolol emoticons we have. We found 2 results. All of our idunnolol smileys are free to download.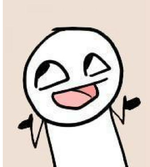 "I dunno LOL" or shrug meme emoticon.
Added on 03 November, 2012
Filename: shrug-troll-smiley-emoticon.png
File size: 25479 bytes
1 frames measuring 150 x 167 pixels

the shrug is another character in rage comics memes series.
Added on 08 November, 2012
Filename: shrug-meme-smiley-emoticon.png
File size: 9530 bytes
1 frames measuring 75 x 84 pixels