Herp derp animated emoticon
These are the herp derp emoticons we have. We found 2 results. All of our herp derp smileys are free to download.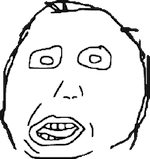 "Herp Derp" is a meme emoticon that carries an expression of extreme stupidity.
Added on 03 November, 2012
Filename: herp-derp-meme-smiley-emoticon.png
File size: 17901 bytes
Rated 3.27 from 24 votes
1 frames measuring 150 x 159 pixels

This is a smiling and happy face of the infamous "Derp Guy" from "Troll emoticons" series.
Added on 08 November, 2012
Filename: happy-derp-troll-smiley-emoticon.png
File size: 1430 bytes
Rated 4.65 from 10 votes
1 frames measuring 97 x 99 pixels