Hawaiian emoticon
These are the hawaiian emoticons we have. We found 3 results. All of our hawaiian smileys are free to download.

We didn't want to omit this superbly excellent hawaiian smiley face from the hello section.
Added on 29 July, 2012
Filename: glitter-aloha-smiley-emoticon.gif
File size: 17891 bytes
3 frames measuring 135 x 56 pixels

Insert the shaka sign icon when writing your replies!
Added on 04 August, 2012
Filename: shaka-smiley-emoticon.gif
File size: 30526 bytes
Rated 3.17 from 18 votes
29 frames measuring 60 x 60 pixels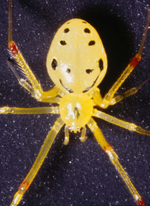 This is a real image of an Hawaiian Spider which has on his back a design similar to a smiley face.
Added on 01 December, 2012
Filename: hawaiian-spider-smiley-back-emoticon.png
File size: 61958 bytes
1 frames measuring 150 x 206 pixels