Free dislike emoticon
These are the dislike emoticons we have. We found 3 results. All of our dislike smileys are free to download.

We got excited when we saw this recent dislike and insult graphic!
Added on 04 August, 2012
Filename: cocking-a-snook-at-someone-smiley-emoticon.gif
File size: 5361 bytes
Rated 3.81 from 13 votes
4 frames measuring 47 x 32 pixels

The image is of a hateful looking individual.
Added on 02 February, 2014
Filename: resentment-smiley-emoticon.png
File size: 12165 bytes
Rated 3.60 from 5 votes
1 frames measuring 128 x 92 pixels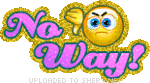 The image is of an individual covered in glitter and giving the thumbs down gesture.
Added on 06 February, 2014
Filename: no-way-smiley-emoticon-1.gif
File size: 22517 bytes
3 frames measuring 150 x 83 pixels