Christ smilies and emoticons
These are the christ emoticons we have. We found 2 results. All of our christ smileys are free to download.

The image is of a girl wishing everyone a happy Easter holiday.
Added on 06 February, 2014
Filename: happy-easter-smiley-emoticon.gif
File size: 11416 bytes
30 frames measuring 89 x 84 pixels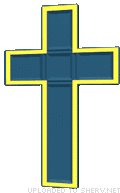 Isn't this revolving icon just way hotter than the rest?
Added on 12 February, 2014
Filename: revolving-cross-smiley-emoticon.gif
File size: 68987 bytes
Rated 3.38 from 20 votes
16 frames measuring 120 x 193 pixels