Cereal guy emoticon
These are the cereal guy emoticons we have. We found 2 results. All of our cereal guy smileys are free to download.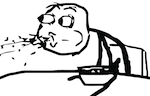 The Cereal Guy meme from Rage Comics faces is spitting his breakfast as an reaction to whatever he's heard or he's seen.
Added on 03 November, 2012
Filename: cereal-guy-meme-smiley-emoticon.png
File size: 12596 bytes
Rated 4.20 from 5 votes
1 frames measuring 150 x 96 pixels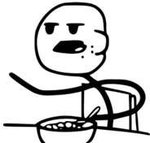 Cereal Guy is one the famous Rage Comics memes characters and is drawn as a stick figure and usually is used as an reaction face in Rage emoticons on the internet discussion forums and blogs.
Added on 03 November, 2012
Filename: cereal-meme-smiley-emoticon.jpg
File size: 5365 bytes
1 frames measuring 150 x 143 pixels