Free casket emoticon
These are the casket emoticons we have. We found 2 results. All of our casket smileys are free to download.

A vampire is hiding in a casket and then he opens the casket!
Added on 08 October, 2011
Filename: vampire-in-casket.gif
File size: 35529 bytes
Rated 4.46 from 13 votes
17 frames measuring 94 x 94 pixels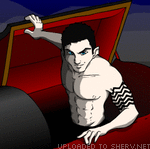 You can see a very shock graphic on this page.
Added on 21 December, 2012
Filename: vampire-in-coffin-smiley-emoticon.gif
File size: 312077 bytes
29 frames measuring 150 x 149 pixels